I have been a coach since I was 18 years old. Back then, during my ultralight travels to Scotland, Ireland and Scandinavia, I presented Basic IT skills to people looking for work in Vienna, my hometown — topics that anyone can easily work out over the internet. Although my courses were always very well received, at some stage I made a promise to myself: I only want to teach people again if I am able to provide my listeners with a really strong, unique and positive learning experience.
When I started working remotely in 2011, and founded my online advertising agency, Touch2media in 2013, I changed my course concept entirely, and designed the first multimedia courses with tablets in Vienna, although this knowledge could easily be obtained from the regular internet.
At that time I didn't realize that it was going to take 14 years for me to reach my goal: Today, in 2021, at the age of 34, I know, from the many positive responses from my fellow travelers, friends and acquaintances, work colleagues and fellow university students, that my path in life as a working and studying world traveler, for the past 11 years, is unique, and that my lifestyle can help others to find their way; to experience adventures, some of which take you way beyond the limits of your comfort zone! Adventures which, based on the disbelieving expressions on the faces of those listeners who choose to stay at home, are inevitably for oneself destined. Destined to let you grow, learn and live a unique fulfilled life, overflowing with emotions.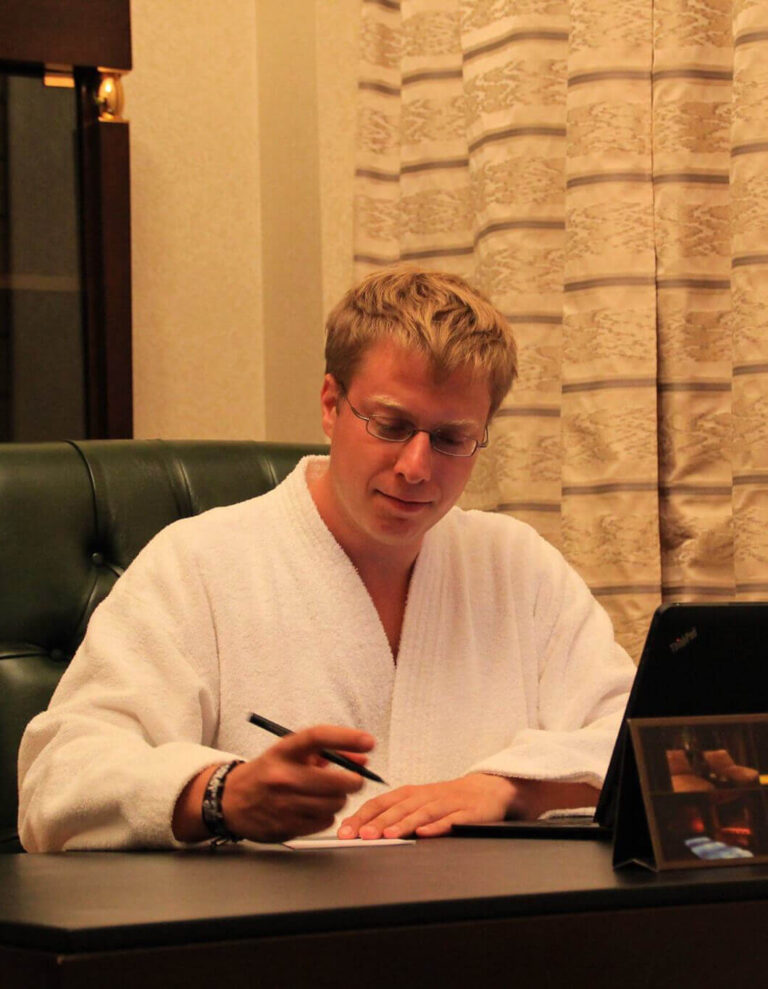 Writing down my future goals during my Civil Service. Travelhacked EUR 2,000 Ambassador Suite, Hilton, Moscow
I've been traveling for 17 years. I started off as a camping/ultralight hitchhiker in Northern Europe, today I mostly travel with a 10kg hand luggage backpack. Despite me  being a big fan of "Slow Travelling", I have by now explored over 70 countries. I can speak and am learning German, English, Russian, Chinese and Spanish
Ever since I was 18 years old, I have worked to finance my own travels. At 25, I got tired of continually saving for my travels, and began working as a location-independent entrepreneur, with my advertising agency Touch2media. Till today, dozens of other international entrepreneurial projects have been developed.
In 2007, I started studying environmental and bio-resource management in Vienna. In 2011, I was the first Austrian to become involved in international research at the Moscow State Agrarian University. Now I am an enthusiastic environmental engineer, and am currently doing research on the topic: "Carbon Lifestyle LCA (Life Cycle Assessment) of Digital Nomads." in Austria and China.
Since I was 18 years old, my travels have motivated me to use appropriate technical and personal tools to find flaws in travel industry systems — and to solve them, in order to open up completely new options for traveling experiences, which are time and money saving. Since 2013, I have also been sharing this information with others.
In 2014, I did my Civil Service in the form of "Holocaust Memorial Service" in Riga, Moscow and Shanghai, and for many years, I worked together with historians on the history of my country of birth and the countries I visited. For me, an understanding of the history and culture of the countries I visit is an integral part of my travels.
Through Business2travel, I hope to introduce a Life-concept to single people, couples and families with children, who are seeking a different way of life. Here you can participate and learn from my lifestyle. You will see, how to start a successful location-independent business, and live with minimal personal possessions, in a Sharing Economy. 
Whether just for a few trips, for a phase of life or as a purpose in life, if you like to travel, the offers on Busienss2travel will take your everyday life and especially your adventure to a completely new level!
One of the most beautiful sunrises I ever saw, during my studies in China. Camping on the Great Wall